This is a review of my experience shopping on Yesstyle during the Christmas holiday on Cyber Monday.
I was curious to order from Yesstyle.com and own some of the fashion jewelry by South Korean name brands & other name brands. I was interested about the quality of the fashion jewelry and the shipping service from Yesstyle. You can also purchase any of the items if you get interested and want to own some of these jewelry pieces.
❤ November 30, 2015 (Monday) – I placed my online order. I used Shipping method: Express.
December 10, 2015 – My Orders shipped. (It took 10 days for Yesstyle to stock all my items and shipped it out)
December 14, 2015 – I received my items. (took 4 days to get to me)
I received an automatic phone call & email from DHL shipping service telling me I that I have a package being delivered. I received my package on December 14, 2015 (4 days) . It came pretty quick and signed for. This is how it looks like nicely package as you can see.
❤ This is what I bought from Yesstyle.
❤ Brand: Kulala – Price: $5.90


Rhinestone Heart Ring
I love hearts and decided to buy some heart jewelry pieces to own to my heart collection. I bought this piece in rose gold 17mm piece. The material reads metal (so is probably not silver) and color of rose gold. This is a pretty ring and I love the color of rose gold and I have worn this ring a couple of times and the color of ring doesn't seem to be fading at all.
❤ Brand: Miss21 Korea – Price: $17.90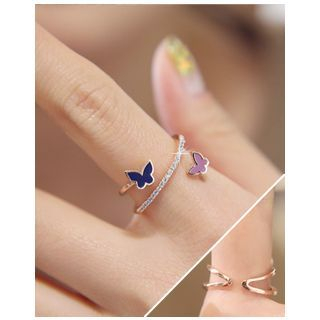 Butterfly Open Ring
I am captivated by butterflies and I think butterflies are beautiful when worn as a jewelry piece especially during the spring or summer season. This is one of my favorite piece it's very pretty and in pinkgold.
This ring is by Miss21 Korea a South Korean jewelry brand by Ji Young Yun she created it for the popularity of fashion jewelry in quality and affordable prices all made in Korea. But I have also seen the popularity of fashion jewelry uses mainly worn by Korean actors and singers in Korean TV dramas and movies.
❤ Brand: LoveGem (Brand from China)- Price: $18.90


Sterling Silver Butterfly Bracelet
This is made of 925 sterling silver at least I found one butterfly bracelet made of pure silver just by the info listed on material on their website. Or I hope it's real silver as it says. I worn this a couple of days and the silver is still in color no fading yet but also you can see its a very thin and delicate chain but it's very nice to layer with other bracelets.
❤ Brand: Maxine – Price: $5.90


925 Sterling Silver Butterfly Ring
This ring reads silver material on their info and 925 silver and I hope its real silver. This is also a pretty ring.
❤ Brand: kitsch island (South Korean brand) – Price: 10.90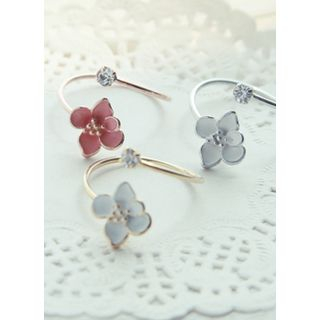 Floral Rhinestone Rings
(actual color of product)

I got this in pink gold and the actual color of the flower is like a pink salmon color. It doesn't look the mauve pink you see in the picture below. Kitsch Island is founded in May 2012 by Baek Hyun Woo, it brands philosophy is made towards women's natural beauty and it ranks as one of the most popular fashion jewelry brands in Korea.
❤ Brand: kitsch island (South Korean brand) – Price: 12.26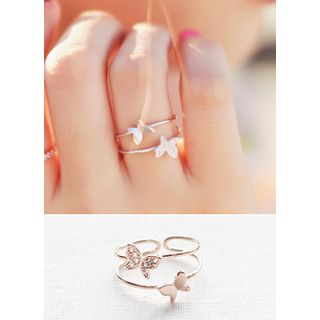 Rhinestone Butterfly Ring
This ring is made of brass material and seems like a popular item on website it has 8 reviews but it seems the reviews are saying that the color of the material fade after a couple of days.
❤ Brand: kitsch island (South Korean brand) – Price: 16.90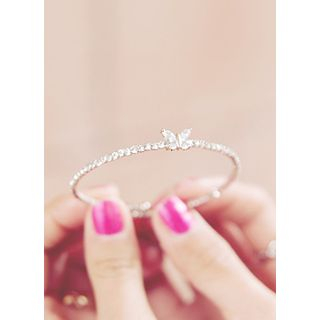 Butterfly Pendant Bracelet
This butterfly bracelet is made of brass material in gold or silver color. I got this in silver color and this would be the only jewelry piece that was very disappointing the bracelet does not fit around my small wrist very well. The size was too big for my wrist and how it was made the material will not stay and wrap around your wrist the material is just light and loose it does not hold like how open bangle suppose too it will just fall off.
❤ Brand: MaBelle – Price: $148.00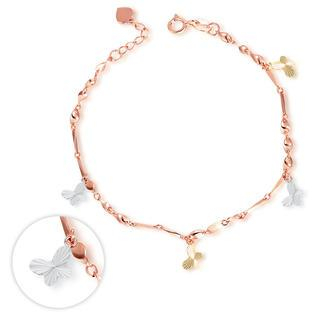 14K Italian Tri Color Yellow Rose White Gold Diamond-Cut Butterfly Charm Bracelet, Women Girl Jewelry in Gift Box
The last and most expensive thing I ordered from YesStyle is MaBelle 14K Yellow Rose White Gold Diamond-Cut Butterfly Charm Bracelet. I used a $10 discount coupon on this one single item and got it to $133.00. I bought this for a birthday gift. This butterfly bracelet is very beautiful and delicate and you can pair it up with other bracelets.
Here is some beauty product reviews. I love anything that is naturally organic and made from nature and I love roses and rice.
❤ Brand: The Face Shop Rice & Ceramide Moisture Toner



Rice & Ceramide Moisture Toner 150ml
I have use this a couple of times and it makes my face feel soft and smooth there is no tightness or dryness to my skin after use. I've researched online to find out what is ceremide and why is it good for your skin. Ceramides are natural lipids that are natural outer layer of your skin and helps skin retain mositure. They serve as part of the "glue" that holds surface skin cells together. Studies have shown that low ceremides level is what makes your skin dry and damaged skin.
❤ Fernanda – Fragrance Body Butter Enchant Scotia (Rose, Freesia, Cashmere woods) (Limited Edition) 100g
from: YesStyle.com

This is a thick cream and it makes your hand feel soft. For the scent, to me the scent does not have a rose floral scent to it. It has a more of a strong prominent musky smell. Fernanda has other scent that you can also try out.
❤ Innisfree – It's Real Squeeze Mask (Rose) 10 pcs
from: YesStyle.com

It is very pleasant shopping on Yesstyle it was easy to navigate and look for products. Some of the fashion jewelry pieces you should know is not made of pure silver but less quality material so that's why they are less expensive and called fashion jewelry. I also find that some of the products have limited details to them. Shipping was on a timely manner and did not have any problems.
Q & A
Should you feel suspicious shopping online on Yesstyle.com?
No, you should not feel suspicious shopping from Yesstyle they are a familiar and popular online website selling many top brands from Asia. This was my first experience shopping from them and I would buy from their website again if I see a product I really wanted to own and couldn't find it anywhere around where I live.
* All products review on this post is real info. I do not get paid to review these products. But any links you click on I get commissions for purchases made through this page.
* I used Yesstyle cyber Monday coupon and got a 15% discount and my total came to $100.
* Sign up with Ebates. You will get great discounts and receive cash back for shopping online. It is free and just enter your email address. Ebates is also available in Canada, China, Korea, Russia, Singapore.
Note:
If this is your first time shopping on Yesstyle be cautious and safe if you don't trust some international shopping websites than you should only spend around $100 or less to be on the safe side. Always shop with your credit card which is protected from shopping fraud provided by your credit card company and do not pay directly from your bank account.
Shop as early as possible on Yesstyle if you are planning to buy gifts for Christmas so it will not take longer to receive it.
Disclosure: This is not a sponsored post, All reviews are real of my own but I have used my affiliate link in this post and I hope you will Love ❤ This!
Please comment below to share your thoughts and experience about shopping on Yesstyle!