Pee Mak Phra Khanong / Watch with English Subtitles & Buy DVD
Pee Mak Phra Khanong
Release Date: Thailand – March 28, 2013, Indonesia – April 5, Myanmar – May 18, Singapore – June 13, Malaysia- June 6
Cambodia- May 23, Hong Kong - May 16, Laos – June 15, Vietnam - June 21, Taiwan- August 9, Philippine – August 28, 2013
Official Website: Pee Mak
DVD Release Date: August 22, 2013
Buy DVD: $9.99 – $27.49
Pee Mak Phra Khanong DVD $9.99 – $27.49 / Language: Cantonese/Thai & English Subtitles.
Ebay – Pee Mak Phra Khanong
$7.99 – $37.99
Notes
* Watch with English subtitles and download original soundtrack.
**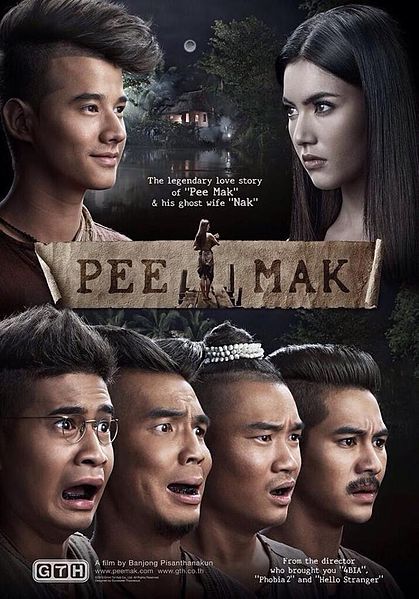 Title: Pee Mak Phra Khanong
Thai Title: พี่มากพระโขนง
Chinese Title: 嚇鬼阿嫂
Vietnamese title: Tình Người Duyên Ma
Director: Banjong Pisanthanakun
Genre: Romance / Horror / Comedy
Release Date: March 28, 2013 (Thailand)
Duration: 118 min.
Language: Thai
Country: Thailand
Pee Mak Phra Khanong Original Soundtrack
Title - Want To Stop The Time (อยากหยุดเวลา)
Artist: Palmy (ปาล์มมี่)
Legally the best place to download music at:
emusic Want To Stop The Time by Palmy Sign-up for 7-day free trail!
Synopsis
This is a remake of the movie Nang Nak. In the early of Rattanakosin Kingdom, Mak (Mario Maurer) is forced to leave his pregnant wife and go to war, where Mak meets four other solders and become best of friends. At the wars end, Mak invited all his friends to visit his home at Phra Khanong, so that he can introduce his wife Nak (Davika Hoorne) to them but, rumours are that Nak died whilst pregnant. Mak does not believe this, and believes the truth is being covered up, and then one by one the villagers begin to die. Has the ghost of Nak returned?
Cast
Mario Maurer – Mak
Davika Hoorne – Mae Nak
Nattapong Chadpong
Wiwat Kongrasri
Kantapat Seeda
Pongsathorn Jongwilas
Source Credits - Wikipedia
Related Titles
Watch Nang Nak with English subtitles
You will also want to Watch The Eye 10 trailer Thai horror movie – 2005 release, a comedy horror, movie.
Trailer with English subtitles
Teaser
A lot of the videos uploaded or being taken off so watch it while its still available.
Watch
* Pee Mak Phra Khanong Thai / English Subtitles Youtube
Pee Mak Phra Khanong Language: Thai
嚇鬼阿嫂 Language: Thai / Subtitles: Chinese
Tình Người Duyên Ma Language: Thai / Subtitles: Vietnamese
Pee Mak Phra Khanong Language: Khmer
Pee Mak Special Harlem shake shake
Buy DVD
Buy Pee Mak Phra Khanong DVD $9.99 – $27.49 / Language: Cantonese/Thai & English Subtitles
Ebay – Pee Mak Phra Khanong
$7.99 – $37.99
Download Pee Mak Phra Khanong Original Soundtrack
Legally Want To Stop The Time by Palmy emusic / Sign-up for 7-day free trial!
Free Download Want To Stop The Time
Updated News!
June 9, 2013 – Pee Mak actress says she has not seen a scary movie in her life until she got the first role as Mae Nak – Asianone
May 24, 2013 – Director of 'Pee Mak Phra Khanong' currently now working with Stephen Chow, who starred in 'Shaolin Soccer'. – Nation Multimedia
May 14, 2003 – Social media in China has rumors that Pee Mak was ban in China because of ghost movie related to "third sex". – Nation Multimedia
May 2, 2013 – A teen dies after he tried to imitate a scene from the most popular high grossing film In Thailand – Bangkok Post
April 26, 2013 – Ghost Movie tops Suriyothai for the highest grossing film in Thai history – Bangkok Post
April 9, 2013 – Pee Mak Phra Khanong tops all time grossing film in Thailand just days after it released, Bangkok Post