The Magic Blade (2012)
Broadcast Date: June 24, 2012
DVD Release: August 7, 2012
Also known as: Horizon, Bright Moon, Sabre
Chinese Title: Tian Ya Ming Yue Dao / 天涯明月刀
Thai Title: ขอบฟ้า จันทรา ดาบ 2012
Vietnamese Title: Thien Nhai Minh Nguyet Dao
Genre: Wuxia, mystery, romance
Episodes: 40
Country: China
Language: Mandarin
Tian Ya Ming Yue Dao Original Soundtrack
1. Tian Ya Ming Yue Dao (天涯明月刀) – Artist: Wallace Chung (钟汉良)
2. You Ni Zhen Hao (有你真好) – Artist: Johnny Chen (陈焕昌)
3. Mo Fei (莫非) – Artist: Singger Liu (刘行格)
Cast
Wallace Chung (钟汉良) as Fu Hong Xue (son of Yang Chang Feng & Rou Er, likes Ming Yue Xin)
Baron Chen (陳楚河) as Ye Kai (Xiao Li Fei Dao successor, likes Nangong Ling)
Zhang Meng (张檬) as Zhou Ting (likes Fu Hong Xue)
Zhang Ding Han (张定涵) as Ming Yue Xin & Cui Nong (likes Fu Hong Xue)
Rachel Momo (毛晓彤) as Nangong Ling (likes Ye Kai, daughter of Nangong Bo)
Zong Feng Yan (宗峰岩) as Yan Nan Fei (likes Ming Yue Xin)
John Chiang (姜大卫) as Xiang Ying Tian
Lily Tien (田丽) as Hua Bai Feng (mother of Fu Hong Hue & Ye Kai)
Wu Ting Ye (吴廷烨) as Qi Yi Xin (likes Zhou Ting)
Wallace Chung as Fu Hong Xue (son of Yang Chang Feng & Rou Er, likes Ming Yue Xin)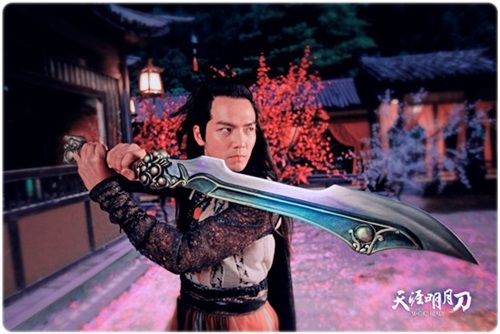 Zhang Ding Han as Ming Yue Xin & Cui Nong (likes Fu Hong Xue)

Zhang Meng as Zhou Ting (likes Fu Hong Xue)

Baron Chen as Ye Kai (Xiao Li Fei Dao successor, likes Nangong Ling)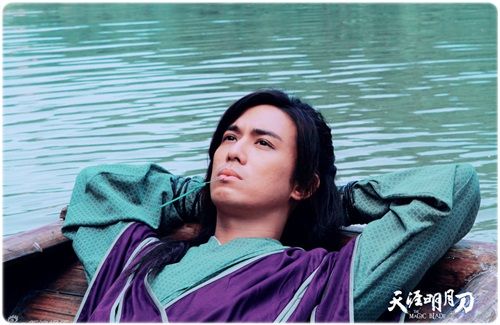 Rachel Momo as Nangong Ling (likes Ye Kai, daughter of Nangong Bo)

Zong Feng Yan as Yan Nan Fei Yan Nan Fei (likes Ming Yue Xin)

OST – Tian Ya Ming Yue Dao – Wallace Chung
You Ni Zhen Hao – Johnny Chen
English Part 1
Watch
English – Part 1, 1.2, Episode 2, ep 28
Thien Nhai Minh Nguyet Dao – https://youtu.be/vSneDlD2nhs
Thai – https://youtu.be/AWpz1qaYe5c
Indonesian sub – https://youtu.be/LZWNeeCQDh0
The Magic Blade is adapted from Gulong novel's The Magic Blade (天涯明月刀) Tian Ya Ming Yue Dao. Twenty-four years ago, "God of Sabre" Yang Chang Feng was double-crossed and murdered by someone close to him. Now his son Fu Hong Xue (Wallace Chung), a skilled swordsman himself, sets out to avenge his father's death. During his journey, Hong Xue meets with kindness and treachery, is conflicted by love and hatred, and eventually discovers the shocking truth behind his birth.
The original film was first produced in 1976 by Hong Kong largest film production company Shaw Brothers, The Magic Blade (1976) starring Tommy Tam as Fu Hong Xue. Tencent adapted The Magic Blade into its first 3D wuxia MMORPG online game version The Moonlight Blade and the main hero Wallace Chung is the spokesman for the game. Moonlight Blade official online game website. http://wuxia.qq.com/main.shtml
This tv version has some English subtitles and you can watch the film version by Shaw Brothers available with English subtitles.
The latest news by the production company is that there is going to be a new film remake by Tencent Pictures & Celestial Pictures, The Magic Blade (2017).
The Magic Blade (DVD) – $9.67-$21.76, EBay, buy now

The Magic Blade (DVD) – Language: Mandarin, No English subtitles, $31.99 – $53.99, Yesasia, buy now
The Magic Blade Original Soundtrack
1. You Ni Zhen Hao (有你真好) – Johnny Chen
Australia
Indonesia
Malaysia
Philippines
Singapore
Thailand
Vietnam
Original Soundtrack download
1. Tian Ya Ming Yue Dao – Wallace Chung
Download source link; http://vdisk.weibo.com/s/dCPpdBQSh93ur
click down arrow