Pee Mak Phra Khanong (2013) | Download OST
Pee Mak Phra Khanong (2013)
Release Date: Thailand – March 28, 2013, Indonesia – April 5, Myanmar – May 18, Singapore – June 13, Malaysia- June 6
Cambodia- May 23, Hong Kong - May 16, Laos – June 15, Vietnam - June 21, Taiwan- August 9, Philippine – August 28, 2013
DVD Release Date – August 22, 2013
English subtitles: Yes
notes
* Watch Pee Mak Phra Khanong and download original soundtrack.
* Pee Mak Phra Khanong tops Suriyothai for the highest grossing film in Thai history.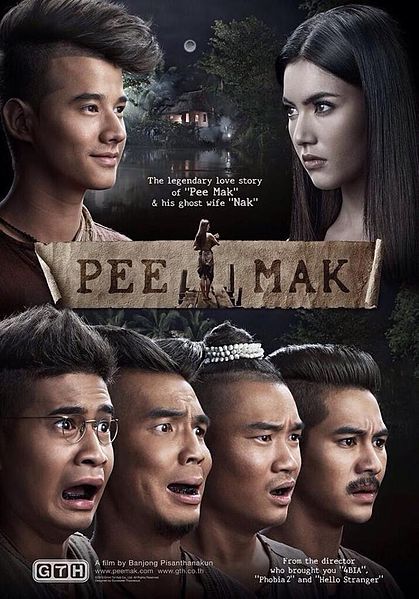 English Title: Pee Mak Phra Khanong (2013)
Thai Title: พี่มากพระโขนง
Chinese Title: 嚇鬼阿嫂
Khmer Title: ភីម៉ាក
Vietnamese title: Tình Người Duyên Ma
Director: Banjong Pisanthanakun
Genre: Romance / Horror / Comedy
Release Date: March 28, 2013 (Thailand)
Duration: 118 min.
Language: Thai
Country: Thailand
Pee Mak Phra Khanong Original Soundtrack
Title - Want To Stop The Time (อยากหยุดเวลา), Yahk Yoot Welah
Artist: Palmy (ปาล์มมี่)
Cast
Mario Maurer (มาริโอ้ เมาเร่อ) – Mak
Davika Hoorne (ดาวิก้า โฮร์เน) – Mae Nak
Nattapong Chadpong
Wiwat Kongrasri
Kantapat Seeda
Pongsathorn Jongwilas
Synopsis
Pee Mak Phra Khanong is a remake of the classic Thai movie Nang Nak but the story will be about Pee Mak (Mario Maurer). In the early of Rattanakosin Kingdom, Mak is forced to leave his pregnant wife and go to war, where Mak meets four other soldiers and become best of friends. When the war ends, Mak invited all his friends to visit his home at Phra Khanong, so that he can introduce his wife Nak (Davika Hoorne) to them but rumours are that Nak died while giving birth. Mak does not believe this, and believes the truth is being covered up, and then one by one the villagers begin to die. Has the ghost of Nak returned?
Teaser/Trailer
OST – Want To Stop The Time – by Palmy
Davika Hoorne singing ost
Pee Mak Phra Khanong Thai – English
Watch Pee Mak Phra Khanong
English – https://youtu.be/eNnQ4oOyAII
Pee Mak Special Harlem shake shake
BUY DVD
Pee Mak Phra Khanong
$20.00 – $55.99 / Language: Thai / Subtitles: English
Do you believe in the legend of Mae Nak? Despite many film remakes and stories that are passed down by word of mouth there has not been any conclusive evidence of Mae Nak hauntings. However, there is a shrine dedicated to Mae Nak in Wat Mahabut in Thailand. Watch Mae Nak return in Make Me Shudder 2 (2014).
You can read this book to get more insights into Mae Nak and famous Buddhist monk Somdet To.
Latest News
* May 2015 – Thai actor and model Davika Hoorne began filming her new movie Heart Attack with Thai actor Sunny Suwanmethanon who is famous for his role in a Thai top grossing romantic comedy film, I Fine Thank You Love You 2014.
* December 18, 2014 – Thai actor Mario Maurer is appointed ambassador of China in which he will promote many of Thailand beautiful destinations to Chinese tourist as part of a 'Tour Thailand with Mario Maurer' project in China. This is part of a plan to attract more Chinese tourist to the country. This project will include many collaborations with Chinese medias and television.
Star Birthday
Davika Hoorne (Mae Nak) born on May 16, 1992 (23)
Pee Mak Phra Khanong Original Soundtrack
Australia
Cambodia
India
Indonesia
Malaysia
Philippines
Singapore
Thailand
USA
Vietnam